Open to Public! All are Welcome!
Indy Brewery Collectibles Show!
Will be November 2-4, 2017
at the Wyndham Indianapolis West
2544 Executive Drive, Indianapolis, IN 46241


Thursday, Nov 2;
We start our CANvention style show with room to room trading on Thursday from check-in till?? The Hospitality Suite will open with local beverages and snacks for all our early guests.

Friday, Nov 3; The room to room trading will be brisk all day and will continue well into the evening. No need to leave the hotel as our Hospitality Suite will expand to offer even more local beverages (from some of the 25 area craft brewers), additional snacks and a wide selection of home cooked Hoosier hospitality.

New for Friday afternoon! The Indy Brew Bus is offering a special tour for Indy Brewery Collectibles Show attendees from 3 – 7 p.m. Join us on a sampling tour of Sun King Brewery, Two Deep Brewing Company, Flat 12 Bierwerks and Indiana City Brewing Company. Pick up and drop off will be at the Wyndham Indianapolis West. Price is $35 per guest. Come taste what is uniquely Indianapolis!

Click here to register for Brew Bus.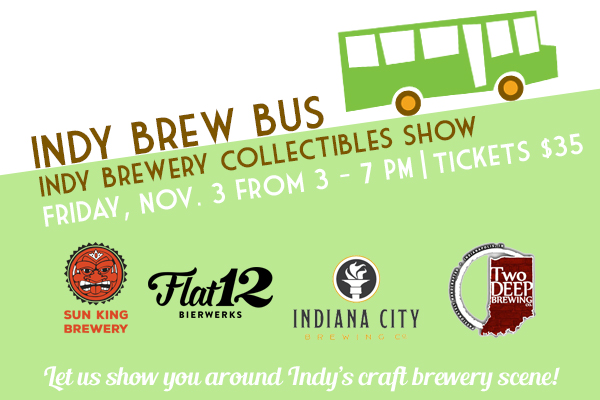 Saturday, Nov 4; Our huge trade floor, will open at 9 am (6 am for vendor set-up) and continue until 1 pm.

Saturday show admission is $5 and PUBLIC WELCOME!
Tables are $10 (pre-register) or $12 at the door (if available).
Thursday and/or Friday hospitality registration is $20.
Hospitality and/or table purchases include show admission.

Contact Todd Morton at 317-502-8835 or show@ibcchapter.com for additional information or any registration questions you may have.


To reserve a room at the Wyndham:

Click here for online hotel registration
or
Call 317/248-2481
Mention the Brewery Collectibles Show to get the $99 rate.
After Oct 20, 2017 room rate subject to availability.


To register for the show:

Download and print registration form
or
Register via PayPal

(Online registration open until Wednesday 11/1)
D

onations have always been a large part of our ability to put on these shows.
Please click below if you can help us to continue the tradition.

P

lease note: Donations are NOT tax deductible.
View Larger Map